CPM Engineering are now an accredited EASA service centre, and the first company outside the USA.to achieve this status.
EASA (The Electrical Apparatus Service Association) is the leading global trade organisation for electromechanical repair and service companies, with 1900 members across 62 countries.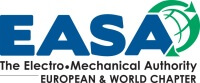 The coveted Accredited Repair Centre status is an award which shows that the chosen company meets strict standard of quality and professionalism needed to provide consistent and efficient motor repairs.
The accreditation covers competencies in mechanical repairs and electrical winding for all 3 phase squirrel cage motors regardless of size, age or application.
Achieving accreditation
An integrated solutions provider in the field of motor, pump and gearbox repair for over 25 years CPM Engineering are experts in the repair, maintenance and management of rotating plant, with a comprehensively equipped motor repair centre and a highly experienced team.
Committed to achieving high standards of quality and service at all times, our clients trust us to deliver cost effective and reliable repairs for all their motors, gearboxes and pumps providing repair, replacement, asset management and condition monitoring services combined to maximise performance, minimise downtime and reduce costs.
The EASA accreditation process takes only a few days but our preparation  has been years in the making with a dedication to service , staff training and continuous improvement an everyday part of CPM's operations for almost three decades.
There are five primary areas of assessment for the audit carried put in order to achieve the accreditation, these are:
Policies and procedures 
A mixture of written and verbal policies are required for the effective, safe and efficient repair of motors
Training All mandatory health and safety Training must be up to date and training in the latest techniques, skills refresher courses and vocational training should be carried out to an appropriate standard.
Equipment 
An equipment audit is carried out to ensure the service centre has the correct equipment to carry out fault testing, dismantling, motor repair and post repair motor testing. This equipment must meet the standards set by EASA , and should have in date calibration certificates where applicable.
Internal Audit
The beta audit should be carried out by someone with understanding of the repair process and the EASA accreditation programme to ensure the service centre complies with the requirements of accreditation
External audit
This audit is conducted by a 3rd part inspector approved by EASA to ensure the service centre meets all of the requirements of the accreditation programme before the service centre can finally be given EASA Approved Repair Centre status.
Once accreditation is achieved audits must be carried out annually to ensure standards are properly maintained.
CPM Engineering are proud to have achieved accreditation on our first attempt, meeting all of the criteria required of a service centre able to provide high quality motor repairs proven to maintain efficiency.
As a minimum all accredited service centre must have a burn off oven for winding removal , a Vacuum Pressure impregnation tank for varnishing windings which is essential in maintaining conductive continuity and eliminating air pockets which can cause windings to overheat and fail prematurely, a bake oven with temperature control  for curing the finished windings, and Coil and insulation testing equipment which must be calibrated. The centre must also have a wide range of electrical repair and testing equipment.
With a fully equipped machine shop, testing facilities up to 3300v, balancing capability up to 3tonnes, and submersible pump testing station CPM Engineering has the ability to provide skilled repair, management and maintenance for all rotating equipment.
This EASA is accreditation cements CPM engineering as the UK's leading independent rewind and repair specialist, confirming our capability to provide reliable repairs with no loss of efficiency.
To learn more about our repair capabilities, condition monitoring, or our integrated solutions give one of our team a call today.