Explore the wonderful world of smart sensors
Want to know more about smart sensors?
Head over to our new website which explains how smart sensors work, how they are installed and the benefits of this emerging technology for rotating machines.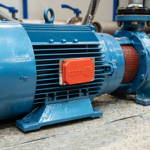 Known as the Fitbit for industrial plants and equipment, smart sensors can deliver enormous cost savings, improve safety, sustainability and help to improve productivity.
We've been working with several generations of instruments and analysers over the past 45 years designed to detect advance warnings of impending failure of rotating machines.
Now, smart sensors provide our clients with real-time data on their machines' performance from anywhere in the world. The information is integrated at our live monitoring station, where patterns and irregularities in machine operation are identified so that the appropriate intervention can be made. Having data collected over the past decades allows comparative analysis which makes for accurate predictions.
Our new site helps you explore smart sensors further and consider their application and how CPM can make your maintenance budget go further.
What are the benefits of smart sensors?
Monitor machine performance
Collect, process, and analyse data in real-time. This allows us to identify potential problems before they become major issues, helping our clients reduce downtime, increase efficiency, and optimise their operations.
Prevent machine breakdown
We understand the impact of machine breakdown on our clients' operations and bottom line. That's why we offer smart sensors that can prevent machine breakdowns by providing early warning signals of potential equipment failure or maintenance needs.
Improve machine efficiency & safety
We believe that improving machine efficiency and safety is key to our clients' success. That's why we offer smart sensors that can monitor and optimise machine performance, improving both efficiency and safety.
Machines that fail cause secondary damage including damage to shafts, bearing housings, motor windings, gear, seal and impellor failures to name a few.  Detecting faults before failure avoids secondary damage and so reduces costs by up to 300%.
Using the latest technologies, we can provide our clients with real-time data on their machines' performance from anywhere in the world. The information gathered is utilised to recognise patterns and irregularities in machine operation
Data is used to identify patterns and anomalies in machine performance, allowing us to detect potential problems before they result in downtime. By catching issues early, our clients can schedule maintenance and repairs proactively.
With our smart sensors, clients can ensure their machines are always performing at their best with predictive maintenance meaning minimal downtime and maximum efficiency. Includes repair, replace, and maintenance strategies.
With no investment costs in buying the sensors and licenses and no installation costs, smart sensors are a cost-effective solution to your maintenance headaches.
Want to explore using smart sensors in your organisation?
Find out how other organisations have realised significant cost savings from smart sensors or get in touch to speak to a member of our team.