Our repair, replace, manage and maintain delivers value!
From emergency repairs to scheduled maintenance we focus on root cause failure analysis. This helps our customers to identify underlying problems and rectifying them before they result in a breakdown. At CPM we believe that we need to have the capability to offer the customer the best option in every instance in order to achieve the best return for every £ spent. That is why CPM developed the REPAIR REPLACE MANAGE MAINTAIN philosophy which means every solution is tailor made for our customers.
Here are some examples on how we keep these 4 services always relevant and updated with industry advances and best practices to better serve our customers.
CPM's New Pump Efficiency Test Facility
CPM's pump repair and refurbishment services are being driven by the users demands for ever greater cost saving, safety, reliability and performance.
What are the critical factors required to meet these needs? Technical expertise, experienced well trained staff, good practice procedures, access to spare parts and the right equipment to do the job. But there is one more point, the ability to test the machine before handing it back to the customer.
No machine leaves a CPM repair facility unless it has been tested to prove the repair and ensure the efficiency of the machine.
Testing is a critical aspect of the repair and refurbishment programme. Initial testing can be performed in order to replicate the customers reported fault, it can determine the Root Cause Failure and it its efficiency can be measured and compared to that of the Original Equipment Manufacturers (OEM) test certificate.
All this information is necessary if an efficient repair and refurbishment is going to be performed on budget and on time and achieve the reliability and performance demanded by the customer. It also allows for the mean time between repair (MTBR) to be extended and the energy costs reduced.
This prompted CPM to invest in its 3rd generation pump test facility.
The new equipment was installed and commissioned in February of 2019 and manufactured to our own specification. The facility will test all types of centrifugal, turbine, submersible via an 8000-litre surface holding tank and underground well. The instrumentation will analyse the flow, head and produce a pump curve and compare it with known OEM data held by our Technical Department.
It achieves customer's requirements for cost savings by extending the MTBR and reducing maintenance intervention and a reduction in the energy the pump consumes. It gives confidence that the repair has been tested and is operating safely and meets production needs for reliability and performance.
When To Repair & When To Replace
In recent research studies performed have provided new insights on when deciding when to repair and when to replace rotating machines when failure occurs.
For many industrial plants, maintenance strategies and decisions relating to rotating assets such as electric motors, pumps, gearboxes, fans, blowers etc. and so when they don't work properly or fail, the impact on regular plant operations can be enormous.
When faced with an ailing or failed machine, plant operators typically consider whether to repair or replace it. According to a 2014 study conducted by Plant Engineering magazine for the Electrical Apparatus and Service Association (EASA), which CPM are a member, approximately 50% plants said that they had a typical policy of automatically replacing failed electric motors (other rotating assets are more difficult to define) below a certain kW rating. While that kilowatt rating varied depending upon the plant's installed motor population, the average rating was 22kW.
While such policies address a portion of the machines used at most plants, they do not cover what occurs with those machines. That question was addressed in a more recent research project commissioned by EASA that focused on the disposition of electric motors considered for repair. The research showed that just over three-quarters (79%) were repairable, with the remainder (21%) replaced. Within the repaired electric motor group, mechanical repairs were the most common (49%), compared with electrical rewinds (30%). Further, over the past three years, mechanical repairs are trending higher, while the electrical rewinds are declining.
What factors determine what is repaired and what is replaced? These are some of the responses:
Availability of a suitable replacement;
Cost of repair vs replacement;
What modifications are required to the mounting when replacing;
Are there any energy efficiency implications of a replacement;
Repair provides opportunity to determine (and address) root cause;
Regular preventive and predictive maintenance practices can provide "early warning";
ANSI/EASA standard establishes motor repair best practices;
EASA accreditation provides third-party assurance of motor repair practices in maintaining energy efficiency and reliability.
There is clearly no 'one fits all' decision when it comes to repairing or replacing rotating equipment however it is a service that CPM offer its customers. All machines that CPM receive go through an evaluation process to determine Root Cause Failure (RCF), the result is often a pointer to the best decision. This provides such information as:
What are the lead times of repair and replacement;
What remedial work is required for repair and at what cost v a replacement;
Is the machine available of the same design, dimensions and construction;
Would a repair meet the same efficiency standards as a replacement;
Which option would give the best MTBR.
It's the owner of the equipment who makes the decision. CPM provides all the necessary information to its customers to allow them to make the best-informed decision.
It doesn't stop there. Advice is also given to the customer on how to avoid a repeat of the failure and what can be done in service to extend the life of the machines such as simple maintenance techniques through to continual monitoring of machine via Smart Sensors.
Reduce Your Repair Costs Guaranteed
With interest rates continuing at record low rates and most companies reporting increased output, perhaps now is the time for plant operators using electric motors, pumps, gearboxes, conveyors etc. to fix the cost of repairs, therefore insuring the risk against increased costs. To sustain reduced costs failures have to be reduced, so how can this be achieved?
This can be achieved by fixed price agreements with service providers of rotating machines. Our company, CPM, have been operating such agreements for rotating machines and electronic drives since the early 1990's and can demonstrate saving from previous year's spending. By transferring costs away from repair to more constructive CBM services, we have shown continuous improvement while reducing costs.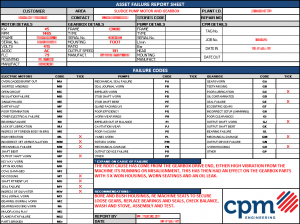 It creates an environment where neither party benefits from failures.
What is a Fixed Price Agreement?
It's what it says. Your Service Provider agrees to perform all your 'offsite' repairs and overhauls in return for fixed price less than the previous year.
What repairs are covered?
All repairs within an agreed scope. You can include or exclude whichever machines you wish so long as it's within your Service Providers scope of expertise. This can include electric motors, pumps, gearboxes, fans, agitators etc. Simply determine the level of support that you need and the Service Provider will come up with a proposal which will offer you a fixed price less than you paid last year. In many instances costs can be reduced year on year for the length of the agreement.
How do you fix the price?
We would assess the risk from previous years spending on these machines for the previous 2-3 years. This way the potential liability can be calculated along with an assessment and planning of how to reduce the number of machines failing in the future. The scope of the savings can vary and is dependent upon a number of factors including:
The type of machines included;
The value of the machines included;
The scope for the Service Provider to help reduce failures;
The access to the machines on the plant to perform CBM techniques;
Which customers performed the repairs in previous years;
What spares machines are carried.
How does the Service Provider make money and reduce the fixed price?
They would perform CBM services within the fixed price with a view to stopping unforeseen failures and therefore reducing the secondary damages caused by failure which is estimated as high as 50% of the repair cost.
Effort is also put into:
Engineering out repetitive failures;
Extending mean time to failure;
Reducing emergency premiums by overhauling more and repairing less;
Reducing the costs of secondary damage;
Negotiating with suppliers the cost of spares in advance;
Replacing in instances where repair costs are higher and to improve energy efficiency;
Making sure machines are 'fit for purpose'.
What are the benefits to the customer?
Improved plant availability through reduced failures;
Spending less than the previous year;
On-going reduction in spend for the life of the agreement;
Improved energy efficiency program;
Free CBM services;
An agreement whereby both parties benefit from reduced failures.
CPM Smart Sensors & Field Services
As an industry leader in Electro Mechanical maintenance we are always looking for innovative ways in which we can help our customers save maintenance costs repairing and maintaining rotating machines while extending the Mean Time Before Repair (MTBR).
Stay connected 24h a day with CPM Smart Sensors
CPM Smart Sensors is based upon IoT technology and they have the capability of recording vital bits of information every minute of the day and feeding in back via cloud based data analytics from smart sensors fitted to rotating machines helping to identify and predict issues even before they happen.
Real-time data and analytics compares your machines with other similar ones and help us to accurately predict what condition the equipment is in and how its trending and therefore what intervention might be needed to avoid it failing.
With traditional CBM techniques monitoring can be slow and expensive and often only monitored every 4-13 weeks. CPM's Smart Sensors can bring down the monitoring period to every minute and therefore making predictive decisions more accurate with more data. This will allow our customers access to the next level in reliability and predictive maintenance techniques.
Field Service – Our team compliments your team.
With many companies 'right sizing' their business and concentrating on their core activities there is not always the in-house capacity to get the maintenance jobs done when they are needed.
CPM take up these tasks utilising its own skilled staff trained in safe working practices and RA's to work on customers premises safely whether it's a proactive job such as an monitoring the performance of a pump electric motor or gearbox, remedial maintenance such as alignment or balancing or a turn-key maintenance or capital project. We match jobs with skills.
Tasks performed on site at our customers premises include:
CBM Services
Plant removal and refitting
On Site Repairs & Overhauls
Dynamic Balancing
Laser Alignment
Lubrication Services
PM's & PPM's
Root Cause Failure Analysis
Asset Management
We understand the need for flexibility and getting the job done within tight time scales to meet production needs and deadlines.
For more information on how CPM Engineering can help reduce operating costs and improving reliability while at the same time reducing costs call us on 0161 865 6161 or send your enquiry to info@cpm-uk.com.