Sleep on your problems while we work on them
As the end of the year is approaching and we are all getting ready for the holiday period it is the perfect time to take a look at your plant equipment and assess any work that may need to be done. The Christmas down time period is becoming increasingly popular as a time to carry out maintenance and overhauls during the shutdown.
CPM supports customers during this time by operating a fully 24/7 operational service for the duration of the holiday period, ideal to carry out overhauls to essential rotating machines which would otherwise not be available due to production demands. Electric motors, Gearboxes, Pumps, Blowers, and Conveyors etc can be refurbished during this period – we will even remove from site and reinstall.
An example of the importance of our service over the Christmas period is highlighted by the experience of one of our customers, who had some staff shortages affecting the assessment of plant equipment and the removal of any most in need of repair. Our guys at CPM stepped in and supported this client taking his motors of site and fixing the repairs in time for when the plant was fully operational again.
We also offer free health checks that can be carried out on the run up to the holiday period with the objective of giving the customer a 'snap shot' of the conditions of selected machines.
What do the Health Checks involve?
The Health Checks involve a number of techniques that have been developed over 25 years here at CPM and include:
Thermos Graphic imaging
Vibration Analysis
Ultrasound
Oil Analysis
None Destructive Testing (NDT)
Laser Alignment
These techniques can identify which bearings are in most need of replacement; this alone can make your machine run another six months or a year without failure. The health check can also predict any future repairs that will arise and when it is best to tackle them. So as well as identifying faults, the health check can help you plan for the future maintenance of your plant, scheduling the best time to carry out maintenance checks preventing any unwanted down time. We also offer a service to assist you with your Planned Maintenance schedule using our Manage Service.
As well as the prevention of any down time a Maintenance Plan can lead too significant savings. The Primary cost which is associated with a maintenance plan can be a lot lower than the alternative Secondary cost. The Secondary cost occurs when additional damage is caused when repairs are not identified and machines are kept running risking more permanent damage, this can be very costly as replacement may be the only option. There are also other savings to be made as a well maintained machine will use up less energy creating more savings for you while reducing environmental impact, with regular maintenance the efficiency of motors can improve up to 30%. See graphic below to illustrate this point: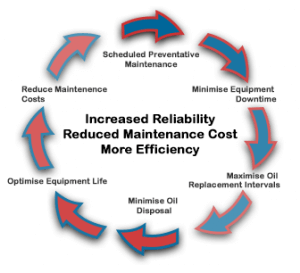 "With Christmas approaching everyone has holiday to take, and without the help of the CPM team I wouldn't have had the time or the staff to get my motors off site and repaired while we were on shutdown". Production Manager
Choose CPM this Christmas and be confident of a great start to the New Year. Contact one of our team to book in for a health check by calling 0161 865 6161, alternatively you can email us on info@cpm-uk.com.